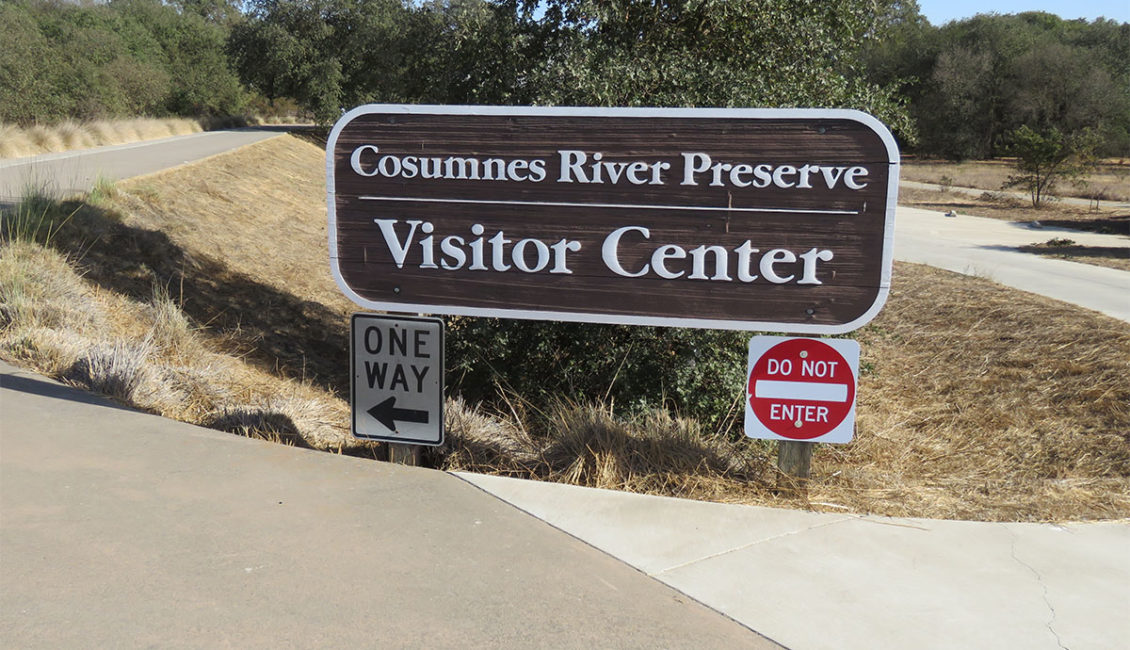 THIS IS YOUR OPPORTUNITY TO SEE COSUMNES RIVER PRESERVE UP CLOSE AND PERSONAL. Since this is a small group tour, you will have open conversations with the Preserve's biologists and get all your questions answered. Jointly managed by 9 private and government agencies, the Cosumnes River Preserve is the finest Valley Oak riparian forest and wetland in California. Explore this key link on the Pacific Flyway and learn why its management is considered a model in conservation partnerships. Experienced tour guides will share the 'back story' and guide you through the beauty of the Preserve.  You will explore areas that are not open to the public to show how rice farming and managed wetlands provide a home for an extraordinary variety of wildlife. Expect to walk short distances and see hundreds to thousands of migratory waterfowl.  Very likely, you will experience the thrill of seeing Sandhill Cranes as they fly into these wetlands for the night to roost.
TOUR TIME: 3:30 – 5:40 p.m.
DIRECTIONS: The Cosumnes River Preserve is located on Franklin Road, which is East and parallel to Interstate 5. Take the Walnut Grove/Thornton exit on Interstate 5, turn left, then left onto Franklin Road. Meet your guide at the Cosumnes River Preserve Visitor Center, 13501 Franklin Blvd, Galt, CA, 95632. Park in the upper or lower parking lot and meet your guide in front of the Visitors Center. NOTE: Franklin Road between the CRP visitor center and Twin Cities Road may be closed for bridge repair.
OTHER TOURS THAT MAY BE OF INTEREST: You may be interested in knowing that other Sandhill Crane tours are available during the fall and winter. For more information about California Department of Fish and Wildlife tours during the season go to this CDFW website. For information about Sandhill Crane tours through the Cosumnes River Preserve, chick here.
TICKETS:
Adult: $35.00
Youth: $25.00
Child: $20.00
Book this tour beginning September 5, 2023
Tour guides will receive a list of customers who have registered by October 28, 2023.
Customers who register online for a tour after that date must show the guide a hard copy or phone display of the email receipt. The receipt may go to your spam folder.
Unsold tickets will be available during the festival and can be purchased on this website.
This map can be used to search for the best route to your tour from your current location. Drive time from Hutchins Street Square in Lodi, California to this tour is approximately 25 minutes.
This tour meets at the Cosumnes River Preserve Visitor Center, 13501 Franklin Blvd., Galt, CA, 95632.  Check in with your guide at 3:30 p.m. 
QUESTIONS REGARDING REGISTRATION: Contact the Registration Coordinator at tours@lodisandhillcrane.org or leave a message at (800) 581-6150. Notify the Registration Coordinator in advance if special accommodations are needed. Expect a response from the Coordinator within the week.
TOURS TAKE PLACE RAIN OR SHINE.
Cancellation Policy: Full refunds (minus a 3% processing fee) are available prior to a tour upon the customer's request at tours@lodisandhillcrane.org. A full refund is automatically issued for any events cancelled by the festival organizers.
EXPLORE MORE! Click below to explore Guides, Detailed Schedule, FAQ's (click on a topic to see more), and Contact us if you have additional questions.