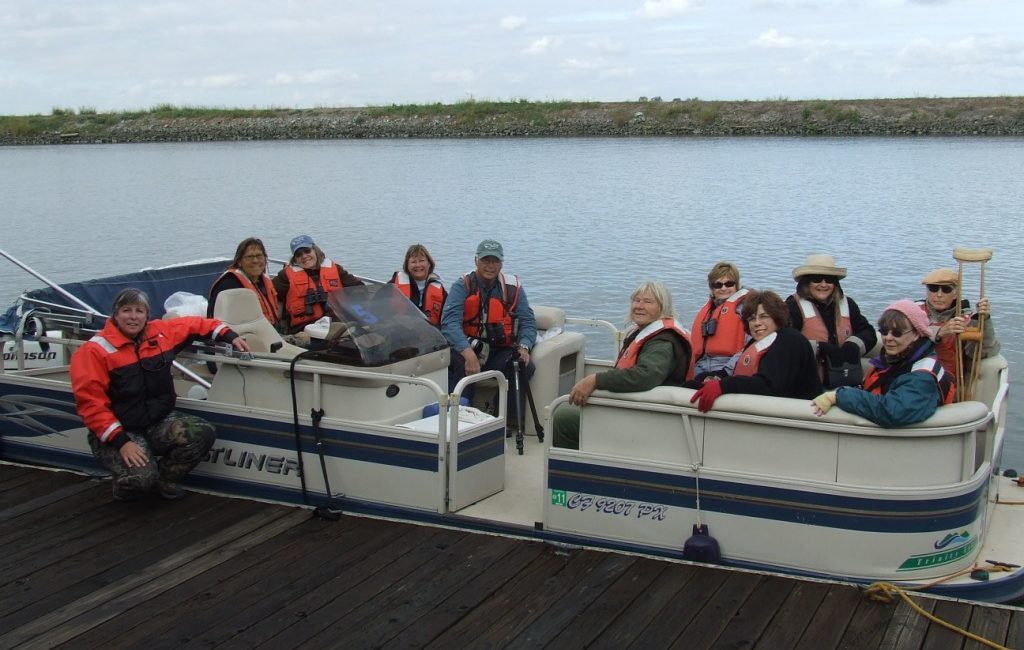 Cruise leisurely along the waterways of the California Delta through prime waterfowl habitat with a local licensed boat operator and a birder/naturalist.  Geese and ducks can often be seen overhead, but don't forget to keep an eye on the banks for the many other birds and mammals that inhabit the Delta. You may also see Sandhill Cranes and Tundra Swans. Bring your binoculars and camera! The tour is suitable for able-bodied adults and kids, but an adult must accompany their children.  Boats have an open canopy; always be prepared for the elements.  Toilet facilities are dockside only. We set sail from the dock at Tower Park Marina/Yogi Bear's Jellystone Camp-Resort. It adjoins the resort restaurant and other amenities.  For more information about Tower Park Resort and the campground visit www.towerparkresort.com.
There will be two boats on this cruise with 8 people per boat. Each boat will have a certified driver and a naturalist guide.
Tour time: 7:25 – 9:30 a.m.
NOTE: DAYLIGHT SAVINGS TIME ENDS SATURDAY NIGHT
DIRECTIONS: All Delta Birding Cruises begin and end at the Tower Park Marina, 14900 W. Highway 12. If you are driving west on Highway 12 from Interstate 5, look for a right turn before crossing the bridge. (Do not cross the bridge because it is a long way until you can make a U turn.) After making the right turn, make a left turn and circle under the Highway 12 bridge. Drive towards the back of the parking area and look for a large plastic statue of Yogi the Bear on your right. Meet your guide up on the dock by Yogi the Bear.
TICKETS:
Adult: $45.00
Youth: $40.00
Child: $35.00
Book this tour beginning September 5, 2023
Tour guides will receive a list of customers who have registered by October 28, 2023.
Customers who register online for a tour after that date must show the guide a hard copy or phone display of the email receipt. The receipt may go to your spam folder.
Unsold tickets will be available during the festival and can be purchased on this website.
This map can be used to search for the best route to your tour from your current location. Drive time from Hutchins Street Square in Lodi, California to this tour is approximately 25 minutes.
All Delta Birding Cruise tours begin and end at Tower Park Marina at 14900 W. Highway 12. 
NOTE: DAYLIGHT SAVINGS TIME ENDS ON SATURDAY
QUESTIONS REGARDING REGISTRATION: Contact the Registration Coordinator at tours@lodisandhillcrane.org or leave a message at (800) 581-6150. Notify the Registration Coordinator in advance if special accommodations are needed. Expect a response from the Coordinator within the week.
TOURS TAKE PLACE RAIN OR SHINE.
Cancellation Policy: Full refunds (minus a 3% processing fee) are available prior to a tour upon the customer's request at tours@lodisandhillcrane.org. A full refund is automatically issued for any events cancelled by the festival organizers.
EXPLORE MORE! Click below to explore Guides, Detailed Schedule, FAQ's (click on a topic to see more), and Contact us if you have additional questions.