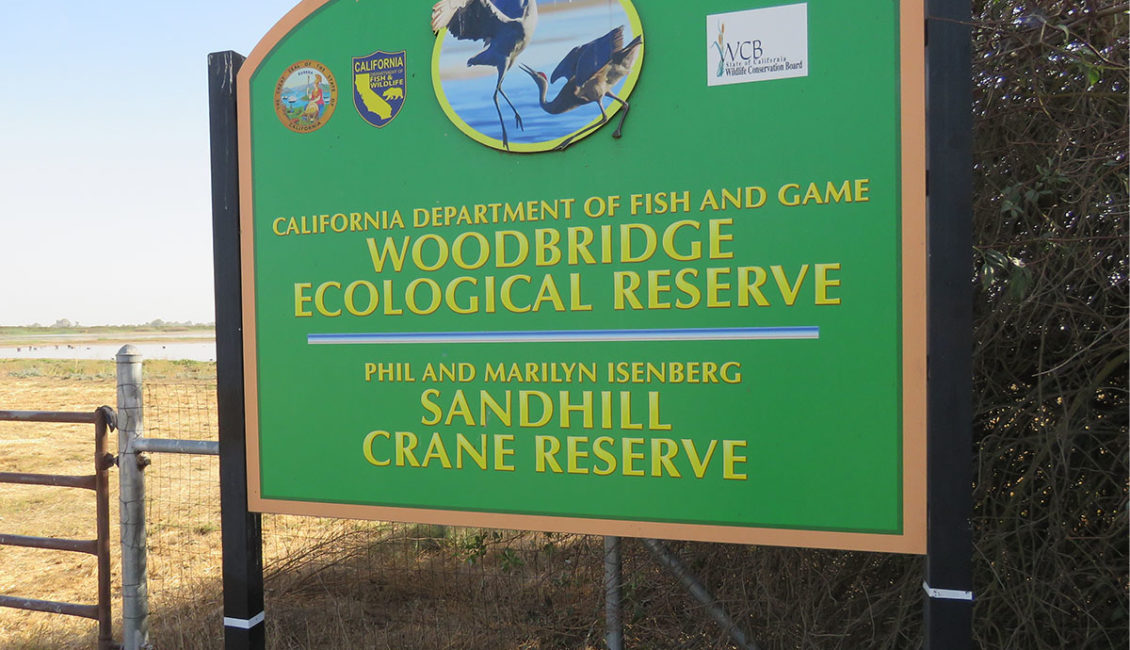 At dusk, in large groups that can number from several hundred to several thousand, the cranes converge on the flooded fields of the Woodbridge Ecological Reserve SOUTH unit to roost for the night. Often this spectacle of flight, vocalization and ground activity is back-dropped by stunning sunsets behind Mt. Diablo. Book this tour early, as it will undoubtedly fill up fast!
LANDS PASS REQUIRED: Attendance will be limited to those who register below. All adults and youth 16 and older are required to have a Lands Pass, or hunting license, or fishing license. A Lands Pass may be purchased at https://wildlife.ca.gov/licensing/lands-pass.
TOUR TIME: 3:55 – 5:30 p.m.
NOTE: DAYLIGHT SAVINGS TIME ENDS SATURDAY NIGHT
DIRECTIONS: Drive west from Interstate 5 on Woodbridge Road for 2 miles. Look for the sign and parking lot on your left.  Meet your guide at the WER SOUTH Unit Parking lot at 3:55 p.m. Be prepared to stand for an hour or more, or bring a camp chair for your comfort. Please park with your headlights facing away from the wetlands.
OTHER TOURS THAT MAY BE OF INTEREST: You may be interested in knowing that other Sandhill Crane tours are available during the fall and winter. For more information about California Department of Fish and Wildlife tours during the season go to this CDFW website. For information about Sandhill Crane tours through the Cosumnes River Preserve, chick here.
TICKETS:
Adult: $30
Youth: $25
Child: $20
Book this tour beginning September 5, 2023
Tour guides will receive a list of customers who have registered by October 28, 2023.
Customers who register online for a tour after that date must show the guide a hard copy or phone display of the email receipt. The receipt may go to your spam folder.
Unsold tickets will be available during the festival and can be purchased on this website.
This map can be used to search for the best route to your tour from your current location. Drive time from Hutchins Street Square in Lodi, California to this tour is approximately 25 minutes.
Meet your guides at 3:55 p.m. at Woodbridge Ecological Reserve South at the west end of the parking lot, near the viewing mound. (The north unit parking lot will be on your right. Continue west for a few hundred yards. The south unit parking lot will be on your left.)
NOTE: DAYLIGHT SAVINGS TIME ENDS SATURDAY NIGHT
QUESTIONS REGARDING REGISTRATION: Contact the Registration Coordinator at tours@lodisandhillcrane.org or leave a message at (800) 581-6150. Notify the Registration Coordinator in advance if special accommodations are needed. Expect a response from the Coordinator within the week.
TOURS TAKE PLACE RAIN OR SHINE.
Cancellation Policy: Full refunds (minus a 3% processing fee) are available prior to a tour upon the customer's request at tours@lodisandhillcrane.org. A full refund is automatically issued for any events cancelled by the festival organizers.
EXPLORE MORE! Click below to explore Guides, Detailed Schedule, FAQ's (click on a topic to see more), and Contact us if you have additional questions.