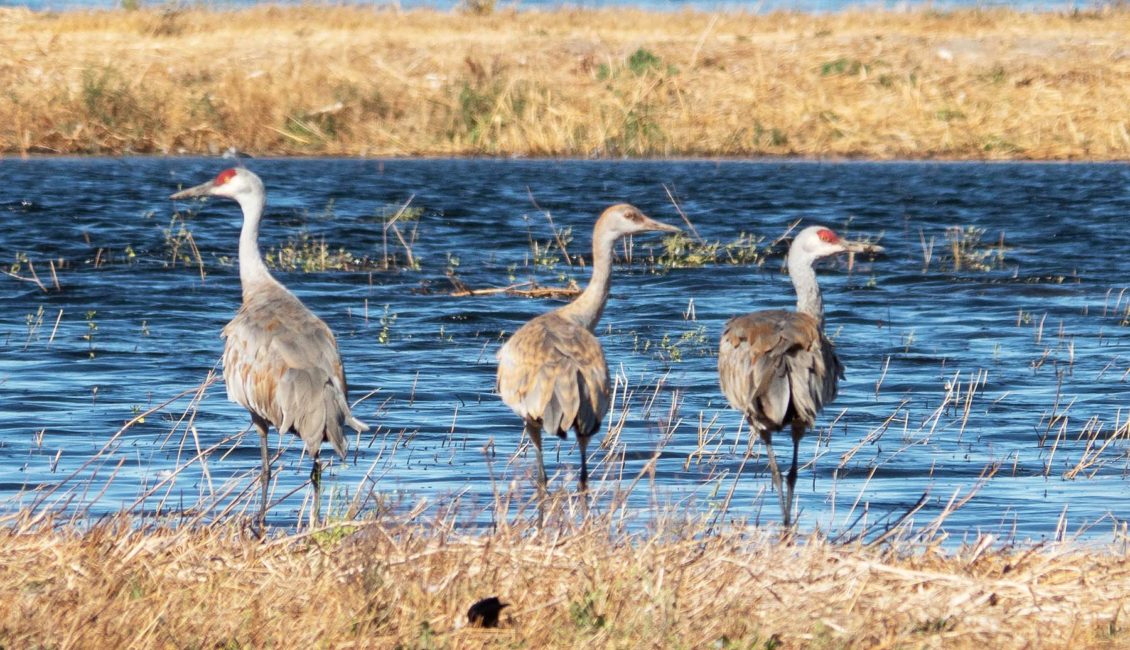 This tour combines a crane fly-in with birding on Staten Island, a premier Nature Conservancy/Conservation Farms and Ranches location, to learn what the birds already know – this is one of the best places in the Delta to spend the winter. The fly-in here typically numbers into the thousands, with both Greater and Lesser Sandhill Cranes. In addition, ducks, geese, Tundra Swans, Great Blue Herons, egrets and numerous other bird species may be viewed. Experienced docents will highlight the history of Staten Island and its partnership with the Cosumnes River Preserve. The tour will split into two smaller groups for better viewing and more personal attention from the guides.
TOUR TIME: 3:10 – 6:10 p.m.
NOTE: DAYLIGHT SAVINGS TIME ENDS SATURDAY NIGHT
DIRECTIONS: This tour begins and ends at Hutchins Street Square (125 S. Hutchins Street) in Lodi, California. Check in at the registration table at Hutchins Street Square by 3:10 p.m. You will be directed to the north door to meet your guides and receive instructions. Transportation to and from Staten Island is provided by charter bus. Loading will begin 3:20 p.m. TO ASSURE EVERYONE'S SAFETY, MASKS MAY BE REQUIRED WHILE ON THE BUS.
NO LANDS PASS REQUIRED
TICKETS:
Adult: $40.00
Youth: $35.00
Child: $30.00
Book this tour beginning September 5, 2023
Tour guides will receive a list of customers who have registered by October 28, 2023.
Customers who register online for a tour after that date must show the guide a hard copy or phone display of the email receipt. The receipt may go to your spam folder.
Unsold tickets will be available during the festival and can be purchased on this website.
This map can be used to search for the best route to your tour from your current location. Drive time from Hutchins Street Square in Lodi, California to this tour is approximately 35 minutes.
Meet your guide by checking in at the registration table at Hutchins Street Square by 3:10 p.m.
NOTE: DAYLIGHT SAVINGS TIME ENDS ON SATURDAY
QUESTIONS REGARDING REGISTRATION: Contact the Registration Coordinator at tours@lodisandhillcrane.org or leave a message at (800) 581-6150. Notify the Registration Coordinator in advance if special accommodations are needed. Expect a response from the Coordinator within the week.
TOURS TAKE PLACE RAIN OR SHINE.
Cancellation Policy: Full refunds (minus a 3% processing fee) are available prior to a tour upon the customer's request at tours@lodisandhillcrane.org. A full refund is automatically issued for any events cancelled by the festival organizers.
EXPLORE MORE! Click below to explore Guides, Detailed Schedule, FAQ's (click on a topic to see more), and Contact us if you have additional questions.